Playing Double Hats
Exclusive Interview with
Rita Cosby
Guest of Honor at the 2011 Annual Gala with Chopin
by Bożena U. Zaremba
It took more than twenty e-mail exchanges and five day-and-time adjustments to arrange an interview with Emmy-winning TV journalist Rita Cosby. It did not come as a surprise, though: With an extremely fast-paced work environment and demanding responsibilities as a special correspondent for the CBS program, Inside Edition, and being host of the daily nationally syndicated radio program, The Rita Cosby Show, as well as constant travels, either to chase a hot news topic or to promote her bestselling book, there is little time for extras. From her telegraphic e-mails, which she types on her BlackBerry while trying to catch a breath between deadlines and travels, I sense a generous and kind person, who is making a genuine effort to find an empty slot in her busy schedule to continue her mission of enlightening people about an important chapter of world history that is hardly known to Americans. She has always come across as a passionate journalist, and now I am pleased to see that she is eager to share her experience as a reporter and to share her remarkable story.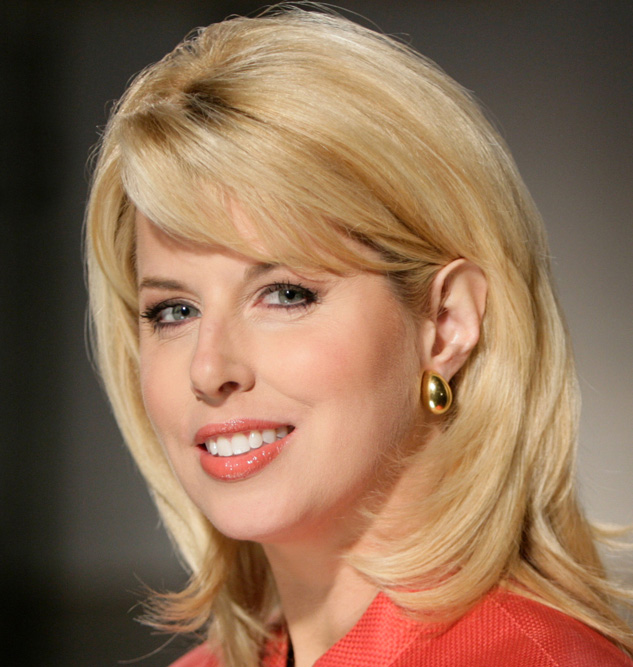 Bozena U. Zaremba: With such a huge load of information that is channeled nowadays and so many technological resources, it must be more and more difficult for a journalist to choose what is newsworthy.

Rita Cosby: That is true. There is so much information between social media, all the cable news channels and all other different sources, and sometimes the old-school way of getting information is still the best. On the other hand, you cannot turn a blind eye to things you get on the Internet. With the Internet, people can also get information to you much quicker. You need to make sure, however, that the information is accurate, so you are forced to double-, triple- or even quadruple-check your sources, which means more stress and less sleep [laughs]… but a lot more often, valuable information at a rapid pace.

How do you prioritize the material?

I always look at how the reporting affects people, and because I do a lot of national news, I always look at something that will affect almost everybody, or at least a big part of the U.S. population. That is one of the criteria. Then I try to find something that is new and different, something they do not see anywhere else – which is always a challenge – but above all, something people can learn from.

So you pick what you think is interesting and important rather than what people want to hear?

Actually, I think it's both, because hopefully what you are reporting is what they want to hear. Sometimes it is very obvious, like a presidential debate or something major happening overseas that makes me know that this is the story I am going to be following that day. But even then, it is important to present it with a new twist or a fresh angle to satiate people's desire to learn a different perspective on the story.

The moment we switch the topic to her unforgettable memoir,Quiet Hero: Secrets from My Father's Past, Ms. Cosby's voice assumes a caring, gentle tone. It's not the first bestseller she has written, but it definitely has a special place in her heart. After all, it describes her astounding revelation about her father's life as a teenager in Nazi-occupied Poland during World War II, something she had been completely unaware of until, right after her mother's death from cancer, she found a mysterious old leather suitcase. The book talks about the young and handsome Ryszard Kossobudzki, his involvement in the Polish Resistance and his brave fight in the 1944 Warsaw Uprising*. We learn about this teenage fighter's horrific escape through sewage canals, his capture and escape from a massive POW camp and, finally, his rescue by the American troops in Germany.

BUZ: In the introduction, you call the interview with your father, on which the book is based, the most important one of your life.

RC: It was definitely the most important interview that I will ever do and the most difficult, too, because there were some painful questions that I had to ask my father about what he went through. It's always hard to ask people questions like that, regardless, but even more so when this is someone who is so close to you and someone you love. I literally saw my father fall apart in front of me while he let so many raw emotions, which he had bottled up for more than sixty years, suddenly come out, sharing them with his daughter. This was a very emotional and moving experience.

And cleansing?

Absolutely. It was cleansing for both me and my father. I learned to forgive my father. He had left the family when I was a teenager, and I had never understood why, because I had never realized what he and other members of the Polish Resistance had gone through. So it was forgiveness and awakening for me, and for my father it was a chance to be able to look back at his past with pride. He was also happy that at the end of his life – he is eighty-six years old – he was able to honor his comrades, because he felt that for so many years their efforts and sacrifice were not recognized.

Was there a question you wanted to ask but did not dare?

That's a great question. [After a long hesitation, she continues.] No. It was interesting that there were no questions that were off limits. My father was extremely candid. What made it easier, I think, is that I was the daughter but I was also a journalist, and my dad was the father but he was also a military man. We played sort of "double hats" – I switched from being a daughter to a journalist, and when I asked a painful question, such as, "Why did you leave the family?", I phrased it in a way as if it were another person asking the question, not his family member, not me. I think it made it easier for my father to respond.

This experience definitely changed the way you look at your own life. Did it also change your outlook on life in general?

Yes, definitely. This whole experience has made me much more appreciative and understanding of people who go through war, like those incredible heroes of the Polish Resistance and also others who go through some sort of trauma. Now I am more aware of the fact that people come from different experiences and that you have to try to walk in their shoes to understand why they act a certain way or say certain things or maybe don't act a certain way, such as in my father's case, because he was so emotionally numb. I now have tremendous insight into what happens to people who fight in a war at such a young age. I also have an incredible respect for what Polish people and the Polish Resistance did during World War II. This is one of the most heroic and courageous stories I have ever heard, and I am so proud that my father was a part of that.

Do you think it might help today's veterans fight their own war demons, if you will?

Yes, I think the story is extremely relevant to young men and women who are coming back from Iraq, from Afghanistan and elsewhere in the world, who are fighting also very, very difficult enemies. Like my father, they walk away with not just visible scars but with invisible scars, and I hope this book can help them to heal and inspire them to talk to other family members, friends and counselors to get the help they need to be able to come back and function after such a traumatic experience. I have also had hundreds of people, who had been estranged from their family members, tell me that the book has helped them to reunite with loved ones and find the courage to reach out to talk to them. I am thankful that my book has helped other families, not just my own, to create a dialogue.

Your book reads like a thriller and would make a wonderful movie. Has anyone from the movie industry approached you about it?

Yes, I have had a number of people approach me, even before the book was written, telling me, "Whenever you're ready, just let us know." That is our next step, the movie, and also a documentary.

Writing the book about your father was like a journey to your roots. Why do you think it's important to know where we come from?

It makes us more complete. I think it gives us a greater sense of who we are. I was very blessed with fame and a lot of other good things prior to this experience, but I never felt complete, because I never felt I had a father in my life and never understood where my family came from. Heritage is so important because it gives us a sense of purpose; it gives our lives a much greater context and much more appreciation.

Is this why you decided to support the Chopin Society of Atlanta?

Oh, yes, absolutely. Chopin is such an important figure, not just in Polish history but in the world's history, and it's a blessing for me to be part of an event that honors his great work. It is so important that we never forget the incredible legacy he has left behind, not just in music but in history. And to me it's also a very personal connection because when he thinks of Chopin, my father thinks of the beautiful days in Poland before the Nazis invaded, he thinks of the lovely, incredible culture that was and now is again in Warsaw after Communist rule. The first day we visited Poland in November 2009 – and it was my father's first day in sixty-five years and my very first time ever being in Poland – we went to a concert, and the pianist was playing Chopin. As soon as my father heard Chopin's music, he had tears streaming down his face, because it brought back so many beautiful memories to him. Chopin is very symbolic to my father and to so many Poles – it embodies the greatness of Poland and the spirit of the courageous and determined Polish people.

The book, Quiet Hero: Secrets from My Father's Past, by award-winning TV Host Rita Cosby, is available online at Amazon, Barnes & Noble, and Quiethero.org.

*The Warsaw Uprising was a major World War II unsuccessful operation organized by the Polish Resistance Home Army (Armia Krajowa) to liberate Poland's capital city from Nazi Germany before the approaching Soviet Army could assume control, and is not to be confused with the 1943 Ghetto Uprising.