Music Day and Night
Interview with
Yulianna Avdeeva
winner of the International Chopin Piano Competition
by
Bożena U. Zaremba
When you won the Chopin Piano Competition in 2010, you were the first woman to have won after 45 years and only the fourth woman to have ever won it. Did this fact have any significance for you?

Let me first of all tell you how happy I was to have won the Chopin Competition. It was very special, and I feel very proud. It also opened many doors for me to different concert halls, and I had a chance to perform with fantastic orchestras, work with great conductors and visit many interesting places. But in general, for me it does not matter what gender or what nationality the pianist is. Music is above that.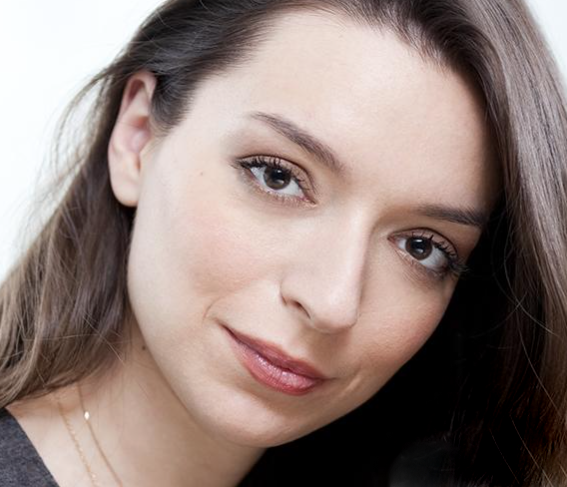 Why is this competition so special?

It is unique because all participants perform only Chopin's music, and you have to find your own way of understanding his music; you have to dive into his world, and you have to find your own voice. The process of my preparation to this competition was very exciting. I totally immersed myself into Chopin's world and into his ideas, trying to learn as much as possible about Chopin, about people, and the artists (not just musicians) who surrounded him, as well as about his epoch and the historical setting. I believe all these aspects had a huge impact on his creative process. It was a fantastic experience because I felt I came closer to the world he lived in. This was a very exciting feeling. In addition, you can sense Chopin's spirit in Warsaw and in Poland like in no other place in the world.

Besides mentioning your piano artistry, comments were made about your unorthodox stage outfit. What is it about the tuxedo?

I have to say that, for me, it is important that people concentrate on the music and are not distracted by a nice dress. [laughs.]

What do you cherish about Chopin's music most?

It is difficult to describe his music. On the one hand, his music has clear structure; we all know that he was a great admirer of Bach and Mozart. That clear form is always fascinating. On the other hand, his compositions have this distinctive improvising quality. When you play his music, you get a feeling that the melody comes from your heart and out of your soul. It is challenging to combine these two aspects. And then each performer is different and brings some new quality to his music. Every time even I perform his music or work on his pieces while preparing for a concert, something different happens, because his music is so rich. This is so special; it is like wearing different glasses each time. You get to discover and appreciate all the little details and new colors.

Does this change with different pianos? Let's consider instruments from Chopin's epoch, such as Erard and Playel versus modern pianos.

It is a very interesting experience to play Chopin's music on historical pianos. They give a much shorter sound than modern pianos, so you cannot do much with the length of the sound. You need to figure out how to compensate. When I play Chopin on an Erard, for example, I immerse myself into the sound that Chopin was working with 200 years ago. This means that I have to play with the possibilities that the instrument gives you, and since this piano does not have such a richness of sound as modern ones, I have to find the expression in the musical score, in what Chopin wrote in the original manuscript. You need to read the notation very carefully and pay special attention to how to use pedal, for example. The same with the articulation, the timing and the rubato. You also need to create every phrase very carefully. It is interesting that once I started to "experiment" with historical instruments, all Chopin's notations started to make so much sense. I think every pianist should try playing Chopin's music on a historical piano if he or she wants to get a full understanding of his music. Anyway, it was very inspiring for me and gave me a new vision of his work.

Do you have any preference for the modern piano?

Not really. Normally all concert halls have their own pianos, which are especially selected for the specific hall. I always trust that the pianos selected for the certain concert hall are the best for this particular venue.

Do you give any special instructions to the piano tuner?

Definitely. For me, it is very important to talk and work with a piano technician, who needs to take into account specific qualities of the hall and to accommodate the repertoire. It helps to find the right sound for the music I am going to perform.

You have studied at several prestigious music schools, such as Gnessin College in Moscow and the International Piano Academy Lake Como. How do you compare those learning experiences?

It is fantastic that in today's world people have the privilege of not just following one direction, but have a chance to study at different schools and work with different musicians. My teacher in Moscow, with whom I studied from ages five through eighteen, was wonderful, but it is also important to have the chance to meet various musicians. In this way, you are able to take suggestions from different teachers and musicians and then choose which one you want to follow. And this is important; only when you work with many diverse perspectives can you find the right way for yourself.

Who are your role models, your inspirations?

Dimitry Bashkirov, whom I met at the Lake Como, is one of the people I admire. It was also a great pleasure to work with Fou Ts'ong and William Grant Naboré, director of the [International Piano] Academy. After I graduated from Moscow, I also studied for six years with Konstantin Sherbakov in Zurich. They all were great influences on my work.

Does music fill all your life? What are your other passions?

It is hard to find time for any other passions, but I can say that I love reading, and I like contact with nature, which is very inspiring. I also love playing chess.

Many top musicians do (including Chopin). Why is that?

It is about memory, about certain intellectual abilities and about strategy. Did you know that Sergei Prokofiev was a great chess player? I recently visited his museum in Moscow, which is the last apartment he lived in, from 1948 to 1953. His chess board is still there, and a beautifully designed invitation to a chess game with Prokofiev and David Oistrakh. Prokofiev once beat the former chess world champion, José Raúl Capablanca! But I must say that music is always surrounding me, not just during the hours when I perform or practice. I hear music in my head all the time. I even dream about music quite often, and sometimes certain music solutions come to me in my dreams. I cannot divide my life into the time when music is there and when it is not. Music somehow is always following me.

Photo by
Christine Schneider