Dear Chopin Society of Atlanta Friends,

We are deeply saddened by the untimely loss of the Chopin Society of Atlanta's dearest friends, Drs. Krzysztof and Elżbieta Krawczyński, who died in a senseless car crash on Thursday, January 28, 2016. The ever energetic, hardworking and resourceful Dr. Elżbieta Krawczyńska was a member of the Chopin Society of Atlanta's Board of Directors, as well as a tireless promoter of music, art and culture in metro Atlanta. She and her husband, Dr. Krzysztof Krawczyński, supported us enthusiastically with their hearts and time, never asking for anything in return. They gained universal respect for their knowledge, kindness, and magnanimity. We honor the beloved couple by remembering their enormous contribution to the metro Atlanta community.


Elżbieta Gurtler-Krawczyńska MD, PhD was a Professor Emeritus of Radiology at Emory University, Atlanta, and former member of the faculty of the Nuclear Cardiology Division of Emory Medical School. Before immigrating to the U.S. in 1984, she had been Deputy Head of the Cardiology Department, Institute of Cardiology in Warsaw, Poland. She authored several articles on cardiac arrhythmia and nuclear cardiology in prestigious scientific publications. To the Polish community, however, she was the heart and soul of everything Polish. Before she joined the board of the Chopin Society of Atlanta in 2000, she had been one of the founders and board member of the Polish Club of Atlanta. She organized art exhibitions, movie presentations, concerts and other cultural events. She initiated the Pierogi Festival, which became one of the most popular ethnic events in metro Atlanta. She was also a founder of the Polish Apostolate Council in Archdiocese of Atlanta. Whatever she did, she did it with enormous energy and dedication, inspiring others to follow in her footsteps. In 2013, she received a Medal of Recognition for her excellent service to the Polish Catholic community in the Archdiocese of Atlanta. In 2007, she received a Civic Achievement Award from the Polish American Historical Association. Not many people knew that she was a survivor of the Siberian exile during World War II, was a member of the Kresy-Siberia Foundation and the recipient of the Siberian Cross, a medal conferred upon people repressed during WWII.

In Mrs. Krawczyńska, our community lost a courageous leader with a vision and a heart to serve others. Her love and passion for cultivating Polish culture, traditions and the arts were contagious. She left a piece of her in our hearts, and it is our honor and obligation to continue her legacy for generations to come.

Krzysztof Z. Krawczyński MD, PhD was part of the team that discovered the HEPATITIS C virus and was an international expert on the subject. He worked at the Centers for Disease Control for more than 30 years, and his scientific papers were published in academic and professional journals around the world. He was very well known and respected in the professional community, but we remember him as a charming gentleman with a sharp but kind sense of humor. He was always by his wife's side, always supporting her initiatives with patience and a smile. Just a few years ago, they celebrated their 50th wedding anniversary with friends and family members, who came from all corners of the world to honor their devotion to each other and their family.

We are heartbroken. The loss of their presence, their wisdom,
guidance and friendship is devastating. We will miss them
tremendously and will forever love them. The couple are
survived by their only daughter, their son-in-law and two
granddaughters. Please keep them all in your prayers.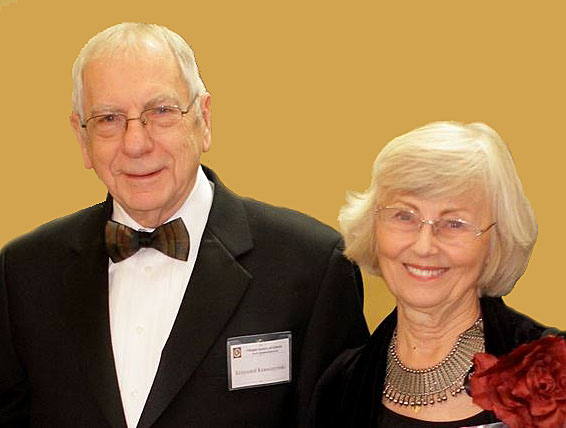 Drs. Elżbieta and Krzysztof Krawczyński Fund
Donations in honor of
Drs. Elżbieta and Krzysztof Krawczyński