ENJOYMENT OF MUSIC
> LIVE ZOOM COURSES FOR ADULTS AND YOUTH
with
MAGDALENA BACZEWSKA

Tuesdays, January 26 and February 2, 9, 16, 23 / 2021
7:30-8:30 PM EST (adult and high school program)

Sundays, January 31 and February 7, 14, 21, 28 / 2021
5:00-6:00 PM EST (youth program)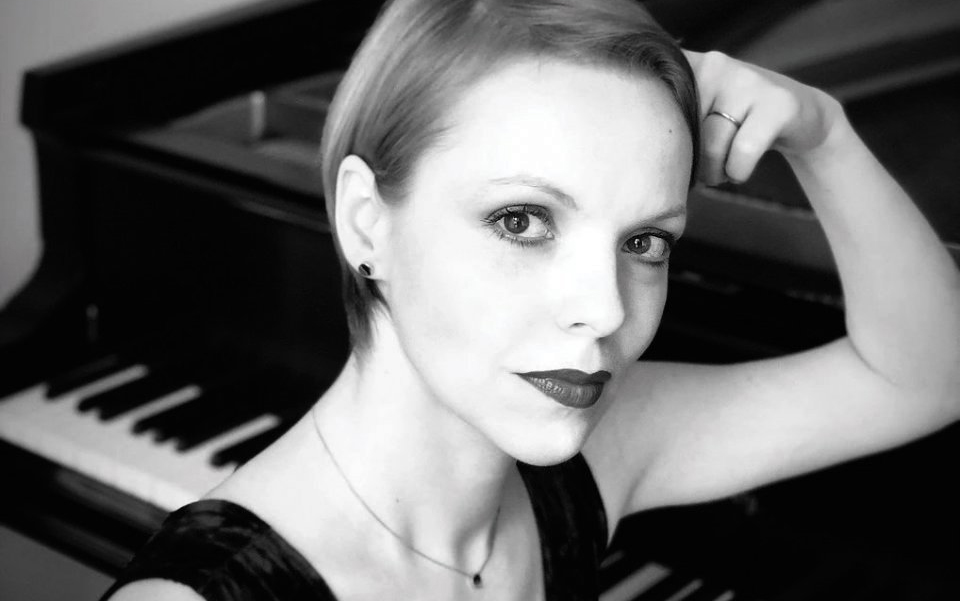 The focus of this course is on some of the most beloved masterpieces of Western art music in their historical and cultural contexts. The main purpose of this course is to derive pleasure from listening and thinking about music. The specific goals of the course are to awaken and encourage active, critical, and comparative listening practices, to give you the tools to respond to a variety of musical idioms in the Western tradition, and to engage you in the issues of various debates about the character and purposes of music that have occupied composers and musical thinkers since ancient times. We will look at the changing genres and styles of music, examining composer's choices and assumptions, as well as those of their patrons and audiences, as we move chronologically from the Middle Ages to the present. Your critical perceptions and responses to the music will be a vital part of the class. No musical background is presupposed. There will be no textbooks, tests, or homework assignments in our course.
CLASS 1: Elements of Music / Medieval music

READ: 5 Minutes That Will Make You Love Classical Music. Do you have your favorite 5 minutes of classical music that you wish to share with everyone? Think about what about the music makes you feel this way.

WATCH: Pauline Oliveros' lecture The difference between hearing and listening.

LISTEN:
- Hildegard von Bingen: O viridissima virga (plainchant, 12th c.)
- Perotin: Viderunt Omnes (organum, 13th c.)
- Machaut: Douce dame jolie ( chanson, 14th c.)

CONCEPTS:
Sacred, secular music, musical textures, metered and unmetered rhythm, Gregorian chant, Notre Dame school, courtly love.

CLASS 2: Renaissance

LISTEN:
- Josquin: Ave Maria (motet, c. 1485)
- Weelkes: "As Vesta was from Latmos Hill descending" (madrigal, 1601)

CONCEPTS:
Motet, madrigal, imitative polyphony, word painting.

CLASS 3: Baroque

LISTEN:
- J. S. Bach:
- Prelude and Fugue in C minor BWV 847 (Well-Tempered Clavier, Bk. I, 1722) performed on each of these keyboard instruments: Clavichord /
Modern piano / Organ / Harpsichord
- Purcell: Dido and Aeneas, D ido's Lament ( 1689)

CONCEPTS:
Recitative, aria, opera, oratorio, prelude, fugue, Baroque keyboards.

CLASS 4: Viennese Classicism: Mozart

LISTEN:
- Mozart: La ci darem la mano (duet from Don Giovanni (opera buffa/dramma giocoso, 1787)
- Mozart, Piano Concerto No. 17, K.453 (1784)

CONCEPTS:
Opera, concerto, symphony, string quartet, changing role of the artist in society.

CLASS 5: Viennese Classicism continued: Beethoven

LISTEN:
Beethoven: Symphony No. 5 in C minor (symphony, 1808) - 1st movement only (0:00-8:00)
Beethoven: Piano Sonata No. 8 in C minor, op. 13 "Pathetique"

CONCEPTS:

Sonata form, symphony, motivic unity, extramusical concepts in Beethoven's music.

CLASS 6: Early Romanticism: Schubert and Berlioz

LISTEN:
- Schubert, Erlkönig ( Lied , 1815)
- Berlioz, Symphonie fantastique (program symphony, 1830) - excerpts

CONCEPTS:
Program music vs. absolute music, Lied, idée fixe , Romanticism

CLASS 7: Romanticism continued: Chopin and the Schumanns

LISTEN:
Clara Wieck-Schumann (1819 – 1896):
- Nocturne op. 6 no. 2

Fryderyk Chopin (1810 - 1849):
- Mazurka op. 24, no. 2
- Mazurka op. 56, no. 2
- Nocturne in C-sharp minor, op. posthumous

CONCEPTS:
Character piece, nationalism in music, Romantic style

CLASS 8: Opera: Bizet and Wagner

LISTEN:
G. Bizet: Carmen (opera, 1875)
- Overture (starts around 1:15)
- Habanera
- Seguidilla
- Toreador at 2:02
- Final scene
- The Ring of the Nibelung ( cycle of four operas 1876)
- The Ride of the Valkyres - Die Walküre from Wagner's Der Ring des Nibelungen (drama/opera, 1876)

CONCEPTS:
Leitmotive, Gesamtkunstwerk, opera and drama, opera comique
Wagner's Ring Cycle: where to start

CLASS 9: Modernism in Paris and Vienna: Debussy, Stravinsky, Schoenberg

LISTEN:
Debussy: Voiles, from Preludes for Piano, vol. 1 (character piece, 1909)
Stravinsky: The Rite of Spring (ballet, 1913) - excerpts
Schoenberg: Pierrot lunaire (expressionist song cycle, 1912): 18. Der Mondfleck

CONCEPTS:
The Velvet Revolution of Claude Debussy, Musical Expressionism, emancipation of the dissonance, polytonality, polyrhythm.

CLASS 10: Modernism in the United States/Jazz

John Cage
Cage: Sonatas and Interludes Prepared Piano (1946-48): Sonata V (character piece) John Cage: 4'33''
Ragtime, Blues, and Jazz
Joplin: Maple Leaf Rag (character piece 1899)
Oliver/ Armstrong : West End Blues (blues, 1927)
Ellington, It Don't Mean a Thing>
Parker, Ornithology

CONCEPTS:
Jazz, blues, ragtime, improvisation, swing, bebop. What is music?